An exciting new way to work with your GIS data!
The GLP Platform combines GIS and Natural Language Processing (NLP). NLP is the technology for understanding spoken and written language and is the basis for all of the chatbots and digital assistants currently on the market. These applications of NLP can perform numerous tasks such as controlling lights, playing music, and finding the nearest restaurant. But when it comes to more complex spatial questions involving your own data, these applications are lacking.
The platform provides answers to spatial questions by linking NLP technology, advanced GIS functionality, and your data. This increases the usefulness of NLP in spatially aware industries by allowing users to talk with their GIS data by using everyday language. Users no longer need to be GIS specialists to get answers from your data as the platform allows them to talk with your data via Tensing's own ArcGIS GLP assistant chatbot widget.
Download the GLP Webinar Recording
On November 1st we launched the Geographic Language Processing (GLP) Platform with an online webinar. During the webinar we gave a short demo of the solution, discussed the benefits, possible applications and offered tips on how to get started with the GLP Platform. You can view this webinar by download the recording.
How it works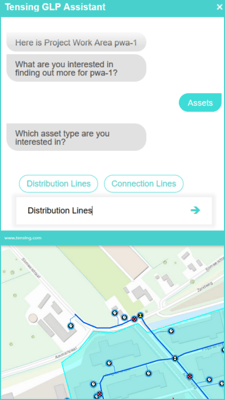 The GLP Platform operates in conjunction with Esri's ArcGIS Enterprise ecosystem. We are also developing other open source and cloud-based alternatives and please contact us for more information.
The GLP Platform consists of three components, namely the Portal for ArcGIS GLP Assistant, the GLP Engine, and the NLP engine. The user interacts with the entire system via the Portal for ArcGIS GLP Assistant chatbot widget, which can be included in any created Web App in Portal for ArcGIS. This assistant communicates with the NLP engine which interprets the user's intent and directs them in a correct workflow. Additionally the assistant can highlight, zoom, query features, and perform other geographic interactions within an Web App, which is all powered by the GLP Engine. The NLP and GLP Engines are both installed within your environment, ensuring your data remains within your environment.
While users can currently use our Portal for ArcGIS GLP Assistant widget, we are also developing future enhancements that will allow you to be able to access the capabilities of GLP via:
chatbots widgets;
communication applications (i.e. Microsoft Teams, Slack, WhatsApp, etc.);
voice controlled speakers (i.e. Google Home, Alexa, etc.).
We are not replacing the several industry standard AI assistants on the market today, but rather utilizing these assistants and linking them to advanced GIS functionality.
Do you want to know more or get started, then please contact us!
Discover the platform and learn how you can start today!