With the Geographic Language Processing (GLP) Platform we offer a solution that can be utilized within your GIS related workflows. It helps to optimize processes and lets everyone work with GIS data, enabling users to work more efficiently, saving time and money.
Try the GLP Platform in your organization
Experience the GLP Platform in your organization by downloading the GLP Trial for free from Esri's ArcGIS Marketplace
Pricing
The installation, use and maintenance of the GLP platform are offered at a fixed priced. As GLP involves Artificial Intelligence, the stories/workflows that the chatbot follows needs to be trained by one of our GLP experts. For each chatbot query (i.e. question) that needs to be configured and developed, it costs 250 EUR/USD. As a result, the total price depends on how many queries/questions are to be included within your desired story/workflow.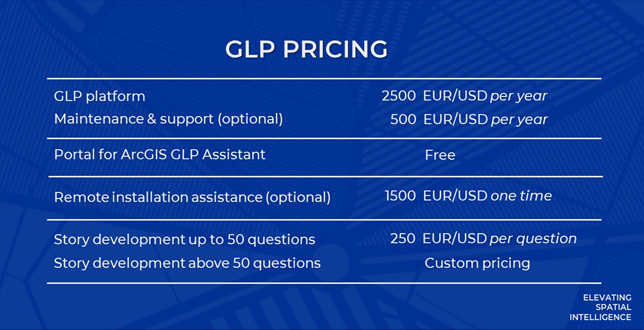 To get the most out of your GLP Platform we recommend to purchase the yearly GLP Platform subscription with the maintenance and installation options for a total of 4500 EUR/USD.
Average stories consist of 20 questions which can be purchased for 5000 EUR/USD. We have also seen with our customers as users have realized the potential of GLP they start to ask for more and more questions to be included within the stories. We suggest that on top of your purchase, that you allocate an additional question budget to enable the next great conversation with your data.
Additionally, if you have more than 50 questions or would like an open ended chatbot experience for your users, we offer special pricing.
Do you want to know more or get started? Please contact us!


Discover the platform and learn how you can start today!
More information
Do you want to talk about GLP and how it can help your organization? Or do you want to get started with the software? Let us know!