Discover the power of the Planet Object Detection Platform. We are happy to explain how it works and which models are available.
Some functions highlighted
With the Planet Object Detection Platform, it is possible to select an area within the Netherlands and have the viewer analyse where and how many objects (for example solar panels) are present in the area.
In addition, there are some other functionalities, such as:
Measuring the distance between two points;
Measuring the surface of an area;
Setting a base map as preferred.
How to get started?
After logging in, you can try out the various functionalities using the following buttons at the bottom of your screen:
Use the first button to select and find solar panels or other objects.



After selecting your area of interest, click on the 'Analyze Area of Interest' button to start the analysis. A progress message appears and, after the analysis is completed, the result is available as a map layer. Here, the data can also be downloaded as a Shapefile or Excel file.
Interface
Below you can see the clear and user-friendly interface of the POD platform.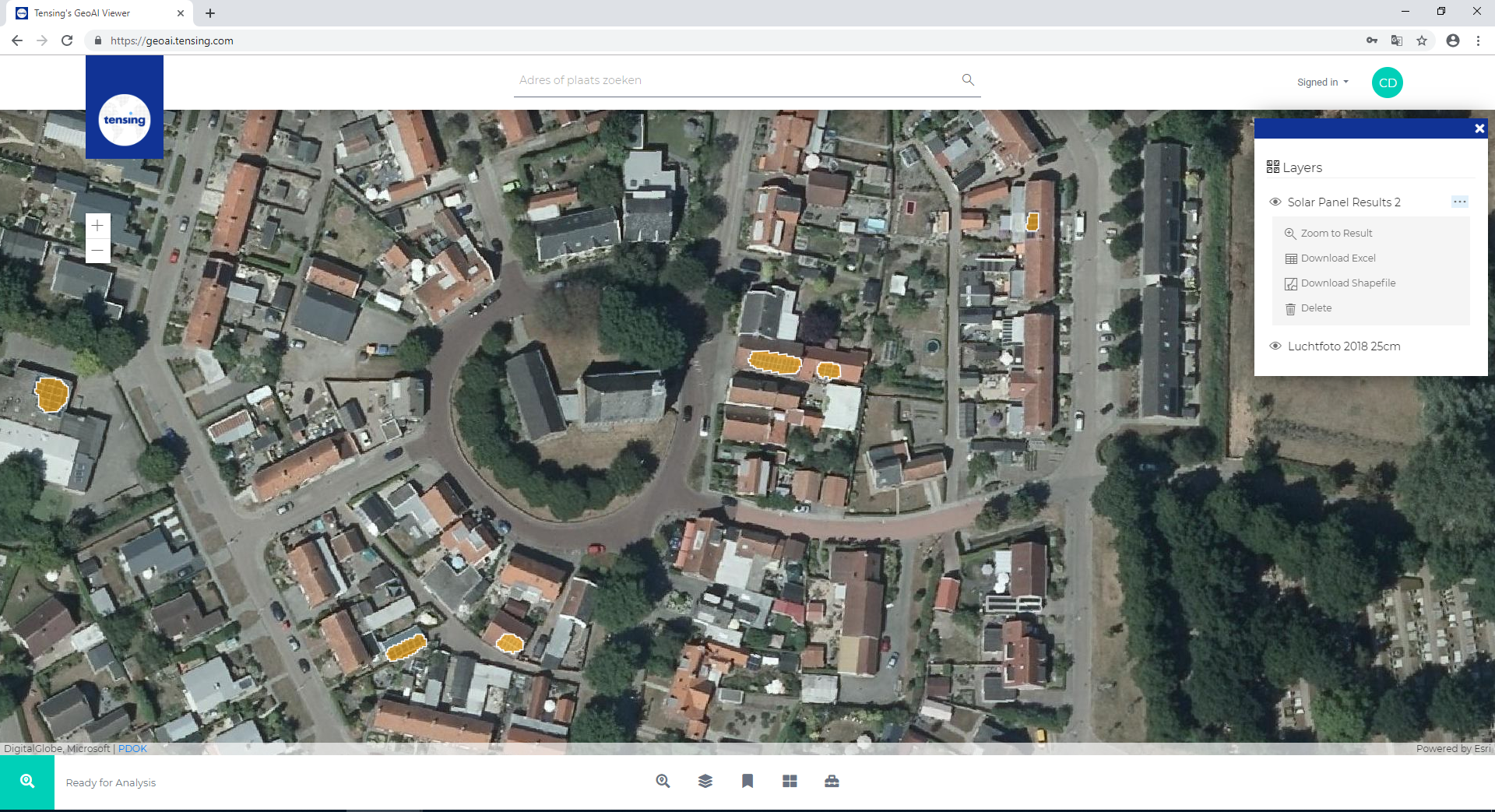 Discover the possibilities
The POD-platform uses a deep-learning technology (artificial intelligence). This makes it possible to point out almost every object on photo or video and to apply a trained algorithm to this.
Curious about which objects the viewer could recognize?
Discover the possibilities

---
See the functionality per model
Demo

*no registration required

Freemium

*registration required

Premium

*registration and payment required

Different background maps
✓

✓


Do you have a specific data requirement for which Object Detection offers a solution?

Contact

us for more information about the possibilities. We are always ready to help you!

Measuring functionality
✓

✓

Use of bookmarks
✓

✓

Displaying data
demo data only

✓

Zoom to results
demo data only

✓

Download result as Excel
demo data only

✓

Download result as Shapefile
demo data only

✓

Select areas of interest
✘
✓

Analysis on the area of interest
✘
✓

Generate PDF report
✘
✘

Use your own aerial photo
✘
✘

Analyse your desired object
✘
✘

Start now!
Register!
Register!
Experience Planet Object Detection
To introduce you to the platform, we have set up a demo environment. This gives you a good picture of the solution and how it works in an easily accessible way. This demo is designed to recognize solar panels.