Control Room
the Hague
The Control Room in The Hague contributes to the safety of approximately 1.75 million residents. Geographic data has an important role in providing our daily safety. The Esri ArcGIS platform offers the 112 Meldkamer real-time spatial insight into incidents. ArcGIS also activates and coordinates Burgernet actions.
The need
The Control Room uses geographic information to ensure that the dispatcher has a map of where a report is coming from, which vehicles are nearby and where the road is obstructed. All this information must be processed and implemented within the 2 minutes the dispatcher has. It is therefore very important that the dispatcher has a clear and fast overview of all available data on the four screens in front of him.

The information that is needed comes from different data sources. The Hague Control Room's need was to combine all data sources in a transparent way so that the operator can act quickly in moments of trouble and there is no doubt about the quality of the data.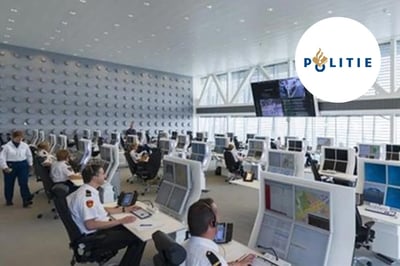 The solution
In order to provide the dispatchers with the correct real-time data, Tensing has developed the Command & Control Room 360° (CCR360) solution. CCR360 ensures that operators have a common operational picture at their disposal, offering an up-to-date overview of essential incident data. Thanks to CCR360, there is never any doubt about the communications of the controllers and they can quickly provide the emergency services with the correct information.
The result
The insight that the CCR360 provides to dispatchers in the Control Room ensures that lives are saved. The dispatcher does not have to think about information he/she provides but has an unambiguous picture of the situation. This allows for more efficient work within the Control Room The Haag. Management of map layers, among other things, can be handled internally at the Control Room. Modifications within the system can therefore be implemented quickly. Tensing continuously works to improve the software and to incorporate the needs of the Control Room.
Wondering what Tensing
can do for you?
Schedule a sparring session with one of our experts