Enhance the quality and beauty of your designs in a geographic 3D environment.
The Tensing 3D GeoViewer for Architects is a development from Tensing Labs that gives context to all your designs! The design can be integrated as a 3D model in its built or natural environment, after which visualizations and numerous spatial analyses are possible.
Upload five 3D models for free
Discover the entirety of the Netherlands in 3D
Delete existing buildings and upload your new designs
Use whatever device you prefer
THE POWER OF CONTEXT
As an architect or engineer, you are proud of your designs and you use visualizations to communicate your vision. Clear communication is critically important — both in dealing with your client and in your dealings with other stakeholders, such as municipalities or local residents.
People are visually oriented. When they can easily visualize your design, the image is processed faster and it lingers longer in their minds. Visualization speeds up collaboration with stakeholders — often resulting in a shorter lead time for your project.

We see that the focus of a project is often only on the design, which results in a lack of relevant contextual information. And we find that strange — and unacceptable — because the design always ends up in an existing environment. The 3D GeoViewer is an essential tool to let you and your clients see precisely how the design fits into its environment
Give context to your design in 3 clicks
Sun analysis
A new spatial development will always have an effect on its environment. For example, a design may create shade over a public space or over the gardens of local residents — not a good situation and one that must be avoided. It is also important that the new design itself catches enough sunlight during the day; with Tensing's 3D GeoViewer, it is possible to perform a shadow analysis for every moment of the day. Read about all the options that are available in the 3D GeoViewer.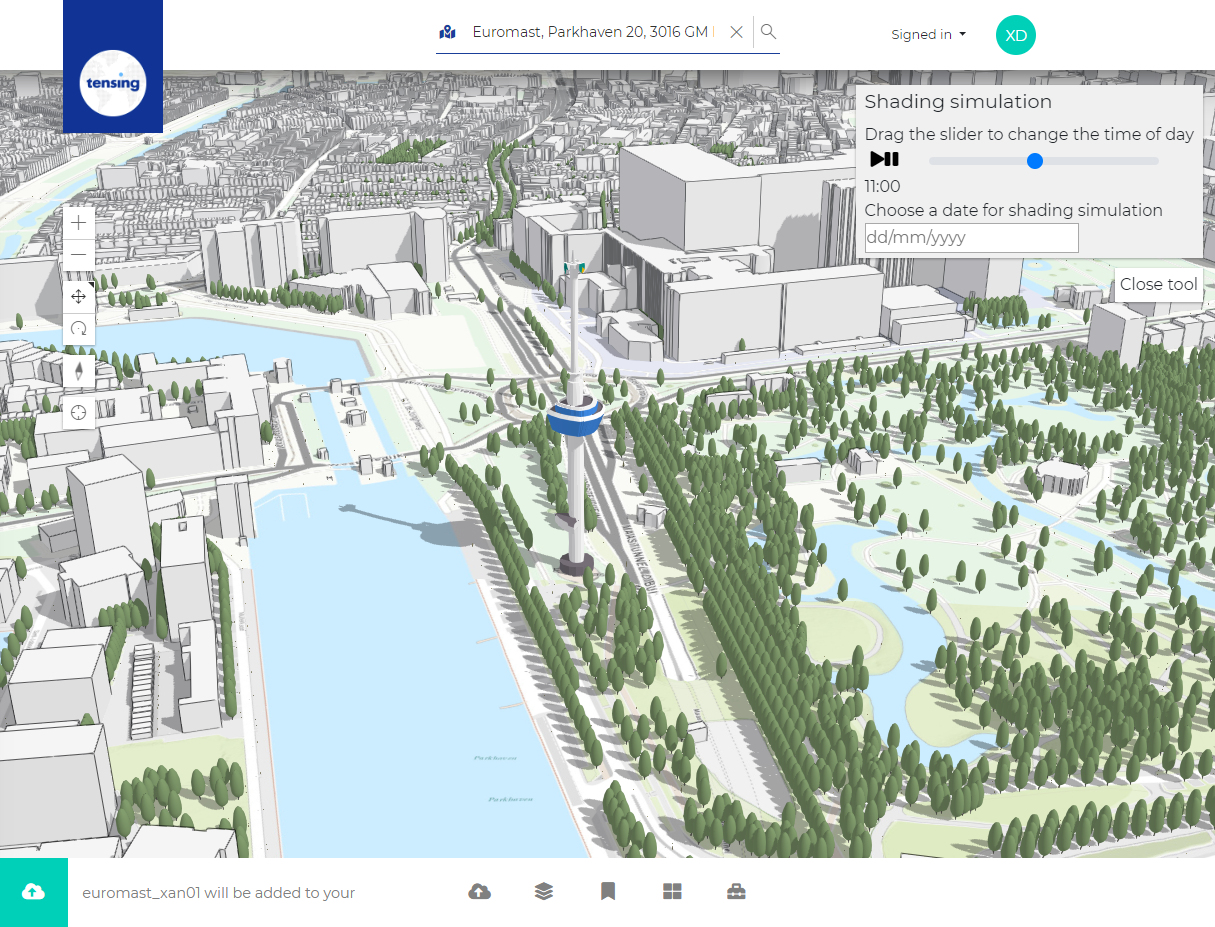 Start today with the free version of the Tensing 3D GeoViewer
Provide insight to the client, local residents, zoning boards, and other local government agencies — and speed up collaboration by giving context to your beautiful designs.
Knowledge Hub
Discover all insights in our Knowledge Hub.