David Eagle joins Tensing as Director of Service Delivery
As leading FME and Data Integration Specialist, David brings over 20 years of experience to Tensing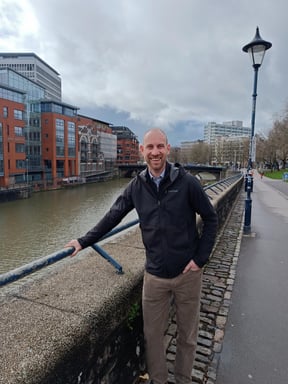 We are pleased to announce the appointment of David Eagle as the Director of Service Delivery for the UK team. With over two decades of experience in GIS, data management, and data integration consultancy services principally with the Safe Software FME Platform, David brings a wealth of knowledge and expertise to his new role.

With the largest and best-certified data team in the United Kingdom and Europe, we already provide highly experienced GIS and data specialists to help organisations get the most out of their data.

By being able to leverage David's knowledge and experience from now on, we are even better placed to assist our customers with their data integration challenges.

David will steer the technical service delivery for Tensing in the UK, working alongside the other FME consultants like Simon Green who also joined recently. David will also be working closely with the Tensing FME technical professional teams in Europe to share knowledge and take our joint services to new heights. He will also chair several knowledge events around GIS and data integration, bringing his experience of delivering dedicated FME user group and FME World Tour events in the UK since 2008.
David Eagle: "I'm really excited to join Tensing, a consultancy with a family atmosphere and a strong focus on customer service. Personally I've always focussed on supporting customer's as their trusted advisor and at Tensing the whole ethos is about working collaboratively with our clients as strategic partners. Talking of partners, partnering with Safe Software and Esri is the icing on the cake, two names synonymous with Data Integration and GIS, make this move for me such a natural fit.".

As a technical and sales specialist for Safe Software's FME platform, David was one of the first people globally to attain a certification when Safe launched their accreditation program nearly 10 years ago. Today David is one of the few individuals worldwide to hold all four of Safe's certifications, including Certified FME Professional, Server, Trainer and Business Professional, swelling Tensing's specialist team of FME Certified staff to over 80 individuals.

David has held several prominent positions throughout his career, most notably over the last 11 years at 1Spatial where he led the FME Division. David has also had roles within Atkins' Geospatial Solutions division, Local Government and as a vessel navigator in the oil exploration industry where he started his career. His experience spans a wide range of roles, from Navigator, GIS Consultant and Trainer, through to Managing Consultant and Head of Division. He has provided technical support, delivered software training and mentoring, managed multi-disciplinary teams, and contributed to sales and project delivery.

For more information on David, please visit his personal page on the Tensing website: https://www.tensing.com/en/about-us/team/dave-eagle.