FME software
Do you work with geographical data from multiple data sources? Then Safe Software's FME is indispensable. Tensing is a Silver Partner of FME and is happy to help you optimise your process. Need an FME software licence immediately? You can! Need help optimising your process? That's possible too!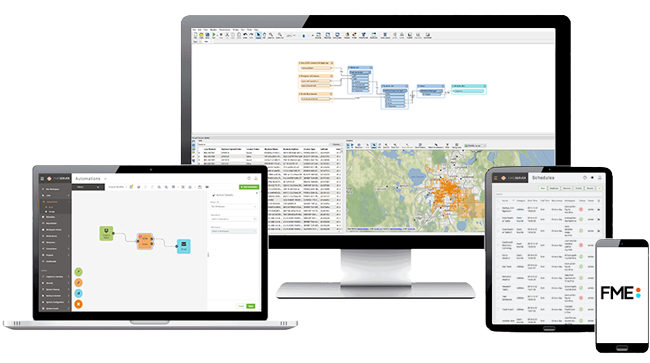 Why choose FME?
FME automates your workflow in a straightforward way. Complex data connections are relatively easy to set up. When you build a map view, FME is an indispensable factor in the background. Many functionalities of this tool are integrated into the ESRI ArcGIS platform, the most widely used geographic information system worldwide.
You can link FME to all available systems and import sources and incorporate them into your workflow. This eliminates a lot of manual work. Copying data from System A to System B, for example.
FME is easy to use. The basics are quickly learned. You don't need to be a software developer to work with it. Graphically, FME is very clear. Workflows are easier to interpret.
FME facilitates transferable working. You can type out your workflows and place them in your workflow. Always findable where you work, in other words.
Once your FME configuration is in place, you will experience the biggest advantage: optimising your workflow becomes a lot easier. The error rate that can arise from manual work goes down and it becomes easier to facilitate a uniform workflow.
What can Tensing do for you?
Tensing is happy to assist you in your FME process. Not sure yet whether FME is the tool you need? We'd be happy to guide your implementation process!
Need help unifying your work process or need help improving your FME configuration? We can help you with that too.
Already satisfied with your FME set-up, but struggling with a staff shortage? We'll deliver the perfect addition to your team!
Why choose Tensing?
FME's configuration options are extensive. So extensive, in fact, that you need a specialist to get everything out of FME. Our FME Specialists are all certified. In addition, Tensing has a culture of knowledge sharing. We make each other better. For example, during the monthly knowledge days where we present projects and experiences. Learning from each other is commonplace. This constant drive to be the best in FME gives us a unique position in the Benelux and beyond.
FME software products
On the pages below, we take a closer look at the capabilities of FME Desktop, Server and Cloud. Prefer to test it in practice? You can! Request a 30-day FME trial so you can experience the benefits for yourself!
FME trial?
Want a no-obligation introduction to the FME platform without paying for the software? Then start the FME trial period! After 30 days, the trial ends automatically, with no further obligations.
These organisations are customers of Tensing