Alex van der Pennen
FME Technology Specialist
Hello! My name is Alex van der Pennen (1989) and I started my journey at Tensing on January 1st 2023.
Career
I've always enjoyed learning new things. When I began my studies I always thought my career would progress in natural sciences. I enjoyed tutoring high school students in physics and mathematics. Gradually I discovered that everywhere we look there are interesting things to be discovered.
In 2015 I started my career in government administration and cartography. I spend some time working as a project coordinator. During this role I worked on projects where lots of time was spent looking at aerial photos. I got to see a lot of the Netherlands this way.
Gradually I discovered the world of geodata, FME and GIS, and how they can be used to support all kinds of fields. Especially in the public domain they are wonderful tools. For me, providing geodata support is a win-win situation; I get to provide our customers with the spatial tools needed to make informed decisions and take care of our world. In the meantime I get to solve puzzles and learn about the way the world works.
Out of office
Whenever the sun is out I like to skate outside. I'm not much of an ice skater, but outside on the concrete it feels great to pick up some speed on those little wheels. Indoors I like to do 'the usual' things like watching Netflix or playing videogames. I play some piano now and then, and spend a lot of time studying the Japanese language; it fascinates me how different it is from the way our western languages work.
Why Tensing?
For me it is important that time spent doing daily work improves the world in some way. I've been a civil servant for a couple of years now and I've always enjoyed this work. Tensing has many customers in the public domain, which gives me the opportunity to do meaningful work for the public. By working for Tensing I hope to get acquainted with these organizations and to help them reach their goals.
Of course homebase and personal development are also really important. So far Tensing seems like an excellent group of people who are all willing to help each other out and to make the work we do a fun experience.

When we start to learn we find out there's so much we don't know, and that's a good thing.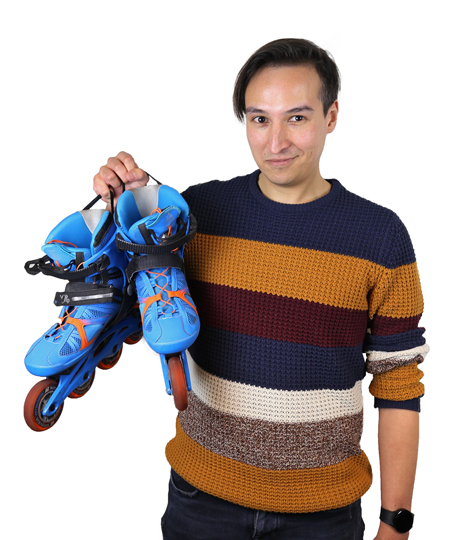 Alex van der Pennen
avanderpennen@tensing.com