Roderick van Noorloos
Esri Technology Specialist
My name is Roderick van Noorloos and I've been working at Tensing since February 2023.
Career
I first encountered GIS during my study of Spatial Planning at Wageningen University and was so intrigued by it that I decided to follow every course about GIS and Remote Sensing they had available.

Following this, I found a job in the GIS Consultancy work field and for the next 14 years I worked for municipalities, provinces, waterschappen, Schiphol, Rijkswaterstaat, ProRail, Kadaster, Utility providers and more. During this time I developed myself into a GIS specialist familiar with several GIS programs. In addition I also gave training courses in GIS, developed course materials and took on a coordinating role as course administrator.

I subsequently took a one year detour, working for the municipality of Wageningen, after which I returned to GIS consultancy, this time at Tensing.
Spare time
I live in the Betuwe area of the Netherlands together with my wife and two kids (boy & girl). It's said playing games keeps you young and this is a philosophy me, my family, and friends wholeheartedly embrace. I therefore love to play all kinds of board games, from fast playing games that take about an hour of play time up to games that require a whole game to play. An added bonus is that most board games feature maps, so even my hobby has a spatial connection.
Why Tensing?
I knew about Tensing for a long time and considered the company a top tier GIS consultancy firm that especially excels at maintaining a good and closely knit working environment with lots of room and opportunities for personal development.

Imminent demise to oppressors, without suffering, when convenient!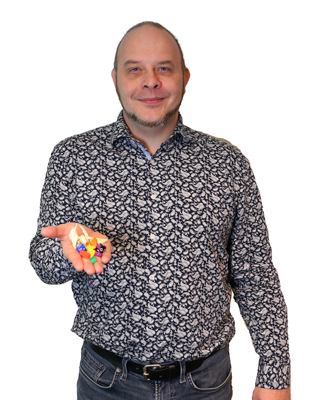 Roderick van Noorloos
rvannoorloos@tensing.com